Rapid Recovery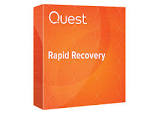 Overview
When installed with a replication partner AppAssure is a very robust system for backup, replication and disaster recovery. Here's how it works.


Rapid Recovery (formerly AppAssure) is a software solution which runs on top of a Windows Server host. The software may be purchased as either a stand-alone product or as a pre-installed rack-mount name brand appliance. In either configuration this central server is known as a "Core". The core acts as the onsite repository of all backed up data.


Like a traditional backup solution, the Rapid Recovery (formerly AppAssure) core communicates to each protected server via a lightweight agent. Following an initial "base" or "seed" of the server the agent monitors changes on the server between each backup. This backup is known as a snapshot. The cadence on this snapshot process is infinitely variable with a minimum value of 5 minutes. At each snapshot interval the agent aggregates all the changed blocks on the server, and following de-duplication and compression, they are written to the core.


Unlike many disk-based solutions the Rapid Recovery (formerly AppAssure) agent and process is very lightweight and has trivial impact on the target server.


Features
Optimize your users' application experience and simplify backup and recovery. Rapid Recovery lets you protect anything — systems, apps and data — anywhere, whether it's physical, virtual or in the cloud.


Run without restore, with zero impact on your users, as if the outage never happened. Connect to cloud simply and easily, and protect growing virtual environments automatically.


Monitor and manage your entire environment – across multiple sites – from one cloud-based management console. Implement easy DRaaS in the Azure cloud with just a few clicks. With Rapid Recovery, you get one advanced, admin-friendly solution — with all capabilities included.


Districts
This list is compiled annually through our web surveys, internet research, and phone interviews with California school districts.
School Districts in California that use Rapid Recovery*
Currently there is no data in the system

Company News
AppAssure, now called Quest Rapid Recovery,
started as a series of backup solutions developed and marketed by the company with the same name until Dell acquired the company in February 2012.
AppAssure was founded by Najaf Husain in 2006. In 2008, AppAssure Software received a "Series A" investment by
Bain Capital Ventures
.
On Friday, Feb. 24, 2012, Dell announced the acquisition of AppAssure, renaming it to Dell AppAssure,
[2]
which became a part of the
Dell Software
Group portfolio.
Later, upon a new major version release, the company renamed the AppAssure product to Rapid Recovery.
Additional Features
Active Directory Management
Microsoft LAPS Support
Smart Card Support