NoRedInk
New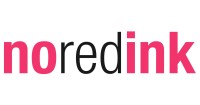 NoRedInk is an adaptive writing curriculum for grades 5-12 that builds stronger writers through interest-based curriculum, adaptive exercises, and actionable data. They offer a free program as well as a paid premium program.  
Overview
NoRedInk offers high-interest content that generates questions from students favorite celebrities, hobbies, tv show and friends. Authentic assessments allow students to play around with language by playing around with sentence structures directly in the software. Exercises are also designed with multiple correct answers since there is no one right way to write a sentence. Blended learning allows students to work at their own pace. The adaptive technology adjusts questions based on what they are getting write or wrong. The site also allows unlimited student practice so that students may grasp new skills.
Support Options
Districts
This list is compiled annually through our web surveys, internet research, and phone interviews with California school districts.
School Districts in California that use NoRedInk*
Currently there is no data in the system