Microsoft Teams
New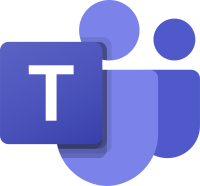 Microsoft Teams is a collaboration app that allows your team to stay organized and have conversations all in one place. The app supports conversations through video, calls and messaging. Documents, photos, videos, chat history, & meeting notes are all in one place making it easier to work together. 
Overview
Microsoft teams support anything from a group chat to video conference with the touch of a button. Teams can range in size from 2 members all the way up to 10,000!  Connect, learn, and collaborate securely with students, schools, districts, and the broader community with calling, meeting, and chat, including supervised chat for students. Create engaging assignments & customized learning experiences with Office and other apps, websites, and content. Support literacy with Reading Progress, a free built-in tool designed to improve reading fluency. Get insights that allow you to make connections to support each student with built-in tools that help connect student wellbeing to day-to-day class activities - including a free built in tool for improving fluency in reading. Meet and chat about group assignments and collaborate in real time on Word, Excel, and PowerPoint files as well as many Learning Management Systems to help students collaborate. You can also track class and individual student progress within the app. The ability to record classes allow students to learn from anywhere as well as revisit and review as needed. 
Support Options
Districts
This list is compiled annually through our web surveys, internet research, and phone interviews with California school districts.
School Districts in California that use Teams*