Achieve 3000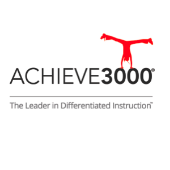 Overview
Achieve3000® has the world's most advanced and only patented online model of differentiated instruction available today. Developing the literacy capacities of all your learners through anytime, anywhere learning has never been easier. Whether preparing for the rigor of new high-stakes assessments or building a cross-curricular path to college and career readiness, Achieve3000 has the solutions to help you achieve your goals.


Achieve3000® is today's leading blended learning program, with differentiated literacy solutions that serve over two million students worldwide. Based on decades of scientific research, Achieve3000's solutions for grades PreK-12 reach all students at their individual reading levels to accelerate their learning, improve high-stakes test performance, and prepare them for college and career success.


Achieve3000 differentiates lessons at 12 levels of English and 7 levels of Spanish to ensure all learners engage at their individual reading levels, accelerating reading gains, boosting mastery of state and Common Core Standards and performance on high-stakes tests, and preparing them for college and career—and beyond.



Features
Achieve3000 is the only customized literacy platform in English and Spanish built on the latest educational research – because the best research leads to the best results.
The Achieve3000 literacy platform continues to evolve based on cutting-edge educational research. With new solutions, new tools and new partnerships, the 2017 Platform Release is our biggest ever, with millions invested so all students can succeed in school and beyond!
Our newest platform enhancements for the International edition include:
Powerful new scaffolds and supports to accelerate learning and further differentiate instruction
New foundational literacy solutions to ensure Spanish speakers and older students master the foundations
A brand-new experience for middle and high school to increase time on task and empower career exploration
New Read-Discuss-Read model created in partnership with Dr. Doug Fisher with the goal of implementing proven effective practices for repeated reading and discussion in the classroom
Plus, new reports, new partnerships and more!
Districts
This list is compiled annually through our web surveys, internet research, and phone interviews with California school districts.
School Districts in California that use Achieve3000*