CALPADS Reports (New!)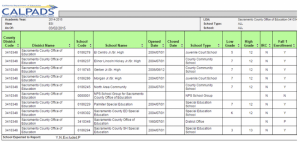 We are nearly finished with the build-out of the CALPADS reports section of the website. We've listed the 84 active reports (both certification and support). For each we list the name of the report, a screenshot, description, and list of the data elements (the actual headers of the report). Eventually we will add some additional info for each. Registered members can also post comments/questions/tips for each.
Sign in to read full story
In order for you to continue reading the full contents of the post, you will need to login first
Comments
Comments are not available for users without an account. Please
login first
to view these comments.